About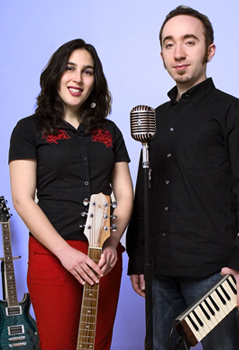 THE BAND
Founded by bi-coastal musicians Rachel Rossos and Michael Gallant, Aurical is the sort of indie rock band your grandmother would love: honest, polite, well-groomed, and capable of telling a damn good story.
Dubbed "a rare talent" by The Times of Trenton, Aurical draws influences from grunge, modal jazz, and Motown; folk, soul, and French art song. Their debut album Something to Say (Gallant Music) received praise from audiences and critics alike. M: Music and Musicians magazine wrote, "Aurical finds the duo in pop-rock mode, and their cleverness comes through right away," while Wildy's World said, "Things get really interesting on 'Redhead Girl', with a piano style that sounds like a cross between Ben Folds and Tori Amos. The most original and intriguing work on the album, 'Redhead Girl' shows Aurical's ability to push the envelope and do it well."

To hear song clips from Something to Say, click here.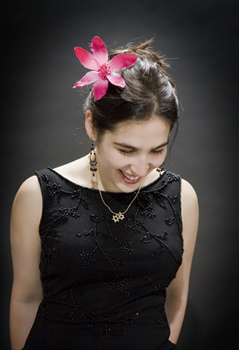 RACHEL ROSSOS
Singer, songwriter, and producer Rachel Rossos studied music at Columbia University with composers Tristan Murail and Sebastian Currier before releasing her debut solo album, Rated R, in 2004... long before Rihanna had the same idea.
Rachel has had an orchestration performed by conductor Alondra de la Parra, worked with Skitch Henderson and The New York Pops, and sung at venues ranging from the Knitting Factory to Lincoln Center. As an arts administrator, she has worked with such musicians as Edgar Meyer, William Bolcom, and Nadja Salerno-Sonnenberg in the role of Director of Development and Marketing for San Francisco's New Century Chamber Orchestra. She currently serves as the New York Philharmonic's Director of Relationship Marketing.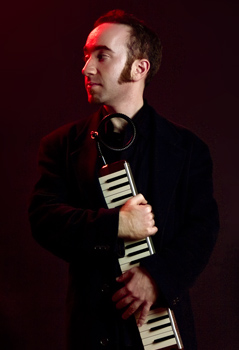 MICHAEL GALLANT
As Senior Editor of Keyboard Magazine, Aurical singer, songwriter, producer, and pianist Michael Gallant interviewed (and often jammed with) artists like Billy Joel, Justin Timberlake, Ben Folds, Tori Amos, Dave Brubeck, will.i.am, and Herbie Hancock, who remarked after one particular collaborative improv, "Man, you can play... You're just as crazy as I am!"
As a composer, Michael regularly creates scores for live theatre productions in Washington, DC and New York and, most recently, scored music for the world's first interactive iPad graphic novel, entitled Operation Ajax. He has played and recorded wth a wide variety of groups and is the founder and CEO of Gallant Music, a content and music creation firm based out of New York City.