Press
Contact
Please email press@auricalmusic.com.
Press Releases
Recent Coverage
"Both of these artists are talented, eclectic in style and able to bring listeners something that is hard to find on the radio: meaningful music that stands on its own without curse words, bragging and gloating, whining or moaning. It sounds simple, but peruse your radio from time and again and you'll realize the rare talent that is within this couple." — The Times of Trenton
"Things get really interesting on 'Redhead Girl', with a piano style that sounds like a cross between Ben Folds and Tori Amos. The most original and intriguing work on the album, 'Redhead Girl' shows Aurical's ability to push the envelope and do it well." — Wildy's World
"Aurical finds the duo in pop-rock mode, and their cleverness comes through right away." — M: Music and Musicians
"All About 'Redhead Girl' a song from Aurical" — Everything for Redheads
"Upper West Side Couple Makes Music Together" — DNA Info
"Rock Piano Workshop - Well-Timed Note Release" — Keyboard
Bios
Images
These images are made available for editorial use only. Commercial use is prohibited. Please use provided photo credits.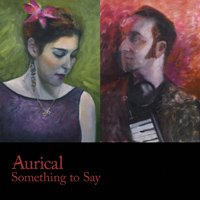 Album Art for Something to Say (2011)
Paintings by Clara Shen.
Design by Eclipse-Designs.com.
For additional images, please email press@auricalmusic.com.